About Us
A typical day in our church is not so typical.  From the laughter of our Preschool students to the quilters in Fellowship Hall, we are always "full" of fun, fellowship and worship.  We are tremendously proud of our people.  Our diverse backgrounds, interests and passions give us strength and perspective.  Our size is small but our family large. 
"We are Christians bathed in the glory of God;  growing in the love and understanding of Christ;  dedicated to sharing Christ's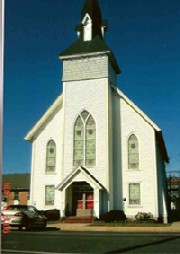 Message with our communities  through the gifts of the Holy Spirit."
Translated:  we are a missions focused church, dedicated to working within our community to bring Jesus to those who've not opened their hearts to him.  You can find us is in so many places, we are the clerks in the stores, the CEOs at the board table, the fireman saving your home and the child with the sweet smile.  Our work is unfolding as you read this.  We are visiting the ill in the hospitals, we are bringing food to the hungry, we are holding the hand of the grieving…We are Christians.
The People of the Manahawkin United Methodist Church
Accept you for who you are
Care for and support each other
Guide others to find deeper meaning
Help people in their community