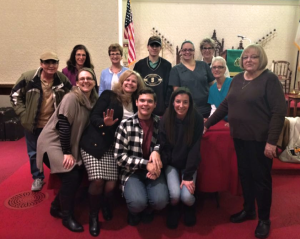 Listen to sample music
The Holy Spirit Ringers is the Adult (and some High School aged) hand-bell group. We rehearse on Thursday nights (September thru May) and perform one Sunday a month (October thru May). While some of our players have been with the group for over 20 years, we are always interested in adding substitute players and, when needed, full time players.  If you want to join the Holy Spirit Ringers, please call 609-597-7666 or email: office.mumc116@gmail.com.
Our director, Joe DelVecchio, has a varied musical background.  He started his musical journey in high school, college, and the US Army Band while stationed in Okinawa.  Later in life, he picked up the instrument again and played saxophone in big bands, most recently The Brass Tacks.  He loves directing the bells and enjoys devoting his time to it in his retirement.