About Us
A church isn't just a building; it's the people.  At Manahawkin United Methodist Church you'll discover that we are a caring, nurturing multi-generational church family. We are a strong community of faith that is eager to share God's gifts with you.
We invite you to join us in Worship each Sunday, at 8:30 a.m. and 11 a.m.   If you would like to speak to us with any questions or concerns, please don't hesitate to call us at 609-597-7666.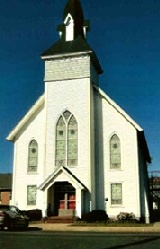 "We are Christians bathed in the glory of God;  growing in the love and understanding of Christ;  dedicated to sharing Christ's Message with our communities  through the gifts of the Holy Spirit."
Translated:  we are a missions focused church, dedicated to working within our community to bring Jesus to those who've not opened their hearts to him.  You can find us is in so many places, we are the clerks in the stores, the CEOs at the board table, the fireman saving your home and the child with the sweet smile.  Our work is unfolding as you read this.  We are visiting the ill in the hospitals, we are bringing food to the hungry, we are holding the hand of the grieving…We are Christians.